Yo so I follow this chick and love her body, this is such a hot big booty little hoe with a pretty face and hairy pussy. I am a sucker for hairy pussy. I am disgusting I know. I try to find new girls to put you guys on game so you can find new thots to fap too and maybe you can hit them up and fuck them. I know a few thousand creeps (like me) are visiting the site every day now, so I thought I would do more of these type blogs with new hoes that are coming on the scene.
Worshiplucie is really popular (i think, but I am not sure and ill explain that in a second) with over 300k follower on her twitter alone. This girl pulls major numbers on her twitter account. Instagram is basically irelvant but the real porno numbers we can see on twitter or x, are the real indicator to see what type of numbers shes is pushing because X allows porn. She pulls in about 30 – 60 thousand views on a videeo she posts on her twitter account which when I saw that was a little red flag for me. Now I do not and have not paid for her content so this isn't so much as a review for her onlyfans but 300k followers dude? You should be pulling in at least double that as a bad ass super hot female with 300k. Porn analytics pulls in way more traffic than normal content.
I know it seems like I am hating but I am not! I am just wondering how she is pulling these numbers in followers but interactions are suspect. I went looking for her links, and checked the usual suspects like erome and the good leaks. NOTHING, seriously nothing! What the fuck? ok now I am getting super suspect about this chicks. There is just no way with that many followers and how fine she is, that there is just no leaks. These models get scammed hiring these stupid DMCA (digital millennium copyright act) companies that basically just scam them for hundreds of dollars a month using a bot to take down "stolen" content. It doesn't do anything you will never stop the leaks and most of these leak sites are in the netherlands that do not know what DMCA is so you cant take it down. Anyway, not my problem. It is just too weird not finding leaks, ok so I went and searched her earnings on https://fansmetrics.com/en/onlyfans/lucieleo?sid=1zwo6j and it says she is making only $4.4k — $17.7k+. Bruh, what the fuck is going on here.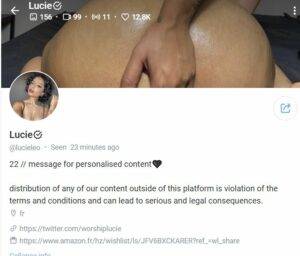 Look at her onlyfans interactions, 12k? bro before I got banned on onlyfans and Im not a girl, girls get way more love than guys. I had 1k likes my 3 weeks. I think what is happening is these girls are getting with "agencies" they pay for a retweet network to boost the girls followers quick to give them the interactions (this is fine, you wont get banned for it. If you have questions about it I can help you out and point in the directions to get you a network to boost your twitter just message me on loyalfans. If you're interested in any of her links check her out here. The agency is most likely doing all her chat messages so dont bother messaging fake models like this.